Guitar guru in Eilat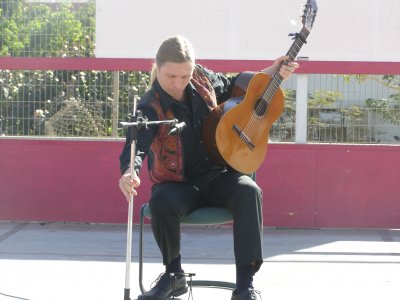 Guitar teacher Yak Santi lives in Eilat with his wife Sarah. All guitar lessons are private, meaning only one student at a time. The lessons are given at Collier's Community Center; Matnas Collier was the first community center established in Eilat.
Yak has been teaching the guitar for more than 20 years and styles that the students learn are many; classical guitar, rock, blues, folk, fingerstyle, jazz, flamenco and more. Playing with a good classical guitar technique is of great importance in Yak's lessons.  The students also learn note reading, improvisation, theory and everything else that is related to the guitar. The goal is to make a "complete" guitarist out of those students who are serious enough...